Unlawful Deduction from Wages
We are often approached by clients who have not been paid the correct wages – either because their employer has not paid them at all, or because they have not received the right amount. We can advise clients on how they can go about recovering this pay.
Wage deductions – the Law in Scotland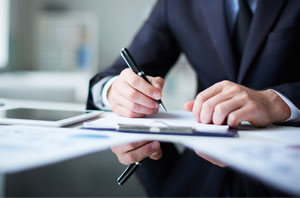 Before an employer can lawfully deduct any amount from your wages, one of these conditions must be met. The deductions must be:
Authorised by law – e.g. Income Tax, National Insurance Contributions, Student Loan etc.
Authorised in the employment contract
Consented to by the employee in writing prior to the deduction being made.
Authorised by a Court Order
There are other occasions on which an employer can make a deduction from your wages. For example if you are accidentally overpaid.
If you think your employer has made an unlawful deduction from your wages, you can make a claim for unlawful deduction of wages in an employment tribunal.
At Alexander McBurney Solicitors, we are experts on advising our clients on how best to approach breach of contract claims and unlawful deduction from wages claims. If you have been paid less than you feel you were entitled to, or you have had your wages 'docked' for whatever reason, contact us today.
Contact Alexander McBurney Solicitors
If you think your wages have been unfairly deducted from, call us on 0141 576 4808 or email us at This email address is being protected from spambots. You need JavaScript enabled to view it.